Serengeti Watch was founded in 2010 in response to the proposed construction of a commercial highway through Serengeti National Park, a development that would have fragmented the ecosystem and destroyed the migration as we know it.  We discovered and sounded the alarm on this major threat. And we followed up with a campaign that included petitions by world scientists and individuals around the world, and support of a legal case in the East African Court of Justice. Since then, we have continued to monitor the Serengeti ecosystem and build programs to support it.

Serengeti Watch is a nonprofit organization working through Earth Island Institute, its fiscal sponsor in Berkeley, CA.  Earth Island Institute is an established and respected conservation organization in the US.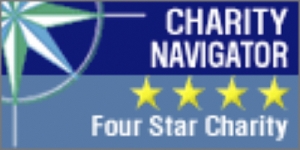 Earth Island Institute hasthe highest rating on Charity Navigator.
The Future of the Serengeti
---
It is far from certain that the Serengeti will survive as we know it through this century. A host of threats face the ecosystem:  A relentlessly increasing human population makes it hard for people to rise out of poverty. Without direct benefits from conservation, and without understanding how conservation contributes to development, people see the problem as "animals vs. people." They believe their children, livestock, and farms should take priority. Poaching for bush meat, deforesting for fuel, grazing cattle in the park, these are simply ways to survive. Yet they have dire consequences for the Serengeti.
Communities around the Serengeti already stretch the land's capacity. If population continues to grow at the current pace, doubling by mid-century and quadrupling by the end of the century, the pressure will be too great. Good governance is crucial for conservation, but in the face of suffering, extreme politics emerge.
Mission and Values
The mission of Serengeti Watch is to build lasting protection of the Serengeti-Mara ecosystem by and for the people of East Africa.
Geographic scope
The Serengeti ecosystem, or Serengeti-Mara ecosystem, is composed of the Serengeti National Park and adjoining protected areas in Tanzania, including the Ngorongoro Conservation Area. In Kenya, it includes the Masai Mara Reserve and the surrounding Greater Mara. All of these areas are part of a whole, critical to the ecosystem that we will simply term, the Serengeti.
Our mission is focused on, though not limited to, Tanzania. Whenever possible, support will carry over into Kenya through cooperation with NGO's there.
Values
Wilderness is vital to human life and needs protection
Development and conservation must work together
Solutions must come from the ground up
Local people must be able to benefit from conservation
Key Assumptions
Existential threats to the Serengeti are building and will increase, especially as human population soars.
We still have an opportunity to build lasting support, but time is running and a sense of urgency is needed.
International support is important but will not be sufficient. Conservation must be built from the ground up.
An important way to inoculate against the vicissitudes of bad policies and destructive politics is to provide strong and widespread support among ordinary citizens. 
Strategy: Build Worldwide Support. Fund Local Action
The Serengeti ecosystem really extends beyond the boundaries of the park and adjacent protected areas, into surrounding farms, villages, and towns. Ultimately, people and wildlife share this extended ecosystem and their fates are intertwined.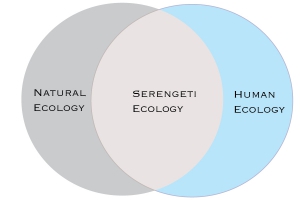 Preserving the Serengeti is a function two interrelated factors:
Natural Ecology needs scientific research and monitoring, invasive species eradication, anti-poaching patrols, effective law enforcement, veterinary services, new technologies like drones and remote sensing – all essential to understanding and protecting a complex natural ecosystem.
Human Ecology involves the complex human ecosystem stretching from farms and village around the Serengeti, ultimately to far off cities and government offices where economic and political decisions are made. In the end, these socio-economic factors within East Africa will decide the Serengeti's fate. Without addressing these social, economic, educational and political dimensions, all other efforts will be for naught.
Local Support is vital.  Our primary role is to build support within Tanzania for Serengeti conservation. Other organizations focus on scientific research, anti-poaching, human-wildlife conflict, and sometimes community outreach. Needed now is an integrated, long-term plan to address the human side of the equation.

Outside support is important. Many outside Africa have a strong interest in the Serengeti. We keep them informed. Their support has a role to play, especially funding. Outside support also includes the international travel industry, which Serengeti Watch is doing.

We ask for international support, inform our followers on developments, and ask for funding to carry out programs on the ground. We work with local partners who know their own communities and are committed to building lasting relationships with them.
Our Partner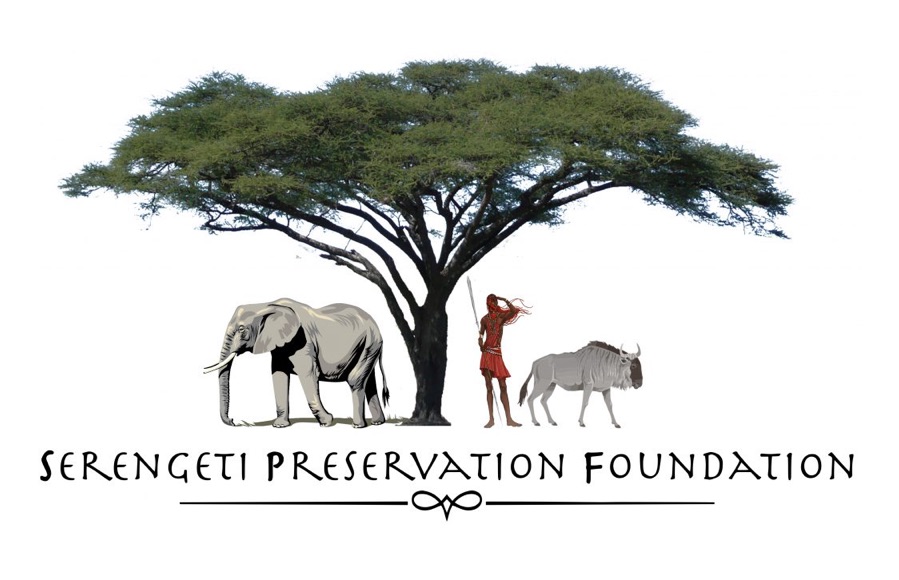 The Serengeti Preservation Foundation is Tanzanian nonprofit organization. SPF is led by Meyasi Meshilieck, who is responsible for designing and implementing our programs for local communities in the Ngoronggoro District, next to the Serengeti National Park.
Where we're working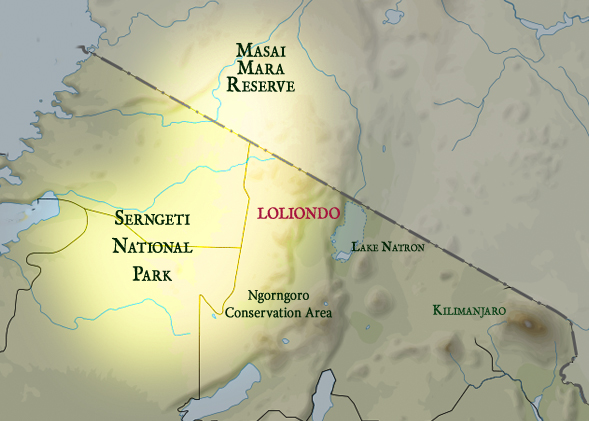 Loliondo is an important and challenging area, one that has seen social and political conflict. Though lying outside the park, it is a key buffer zone for the migration. Making an impact here is critical and can serve as a model for other areas.
______________________
Objectives
 In all of its program initiatives, SPF builds local capacity to monitor and act on threats to conservation, particularly those that relate to local communities.
Monitor the changing status of conservation in Tanzania
Media training and outreach programs
Coordinate and monitor conservation initiatives in local communities
Educate stakeholders, media professionals, and opinion leaders
Bring conservation education to all Tanzanian public schools
Lead online social media communications
Develop local networks and partnerships for conservation action
Build internal capacity and funding for administering and growing programs 
Strategy
I. Community Conservation
SPF focuses on local communities around the Serengeti. Its strategy is guided by these key questions:
How are communities affected by, and how do they impact, the Serengeti?
What issues do local people face?
How can communities benefit from education and information?
How does one build a culture of conservation?
How can those outside be advocates for local communities?
How can people benefit from conservation and tourism?
II. Advocacy, Awareness, Education, Action
This strategy applies multiple project-based approaches across four key areas: Advocacy, Awareness, Education, and Action.  And this is applied in two ways:
Community Saturation, focusing on a single high-risk Tipping Point Community, applying many program approaches. One example of this is the saturation program currently underway in Loliondo, a high-risk urgent need community. Three such programs are planned for Serengeti communities: Loliondo, Musoma, and Ngorongoro Conservation Area. These will be developed consecutively over a 5-year period, and each will be evaluated so that the next regional program will learn from the previous. See below.
Cross-Community, focusing on a single program initiative across closely related communities. One example of this is the simultaneous implementation of the Serengeti Teachers Education Program (STEP) in 10 regional secondary schools. Others are Wildlife Ambassadors for universities, and Journalism workshops. Cross-community programs may also be implemented with partner organizations.
III. Interlocking Programs
Of primary importance in SPF's work is engagement of multiple stakeholders in authentic education and action initiatives. Programs work together to focus on local communities, but also bring community and conservation issues to a national audience, especially opinion leaders and government policy makers.
Programs address both short- and long-term objectives by involving different demographic segments: students, teachers, community leaders, elders, media producers.  Each demographic group has its own time horizon for affecting change.
IV. Community Saturation
At the core of our strategy are Community Saturation Programs that focus on key areas around the Serengeti. They bring individual programs together to provide a sustained, multi-pronged approach to communities. Bringing programs together provides a synergy that is more than the sum of the parts. Once introduced into an area, they continue.
Programs used in community saturation are: Radio, Education programs (STEP), Community seminars, Youth empowerment activities. There are three areas in which these take place: Loliondo, Musoma, and Ngorongoro. They will be introduced consecutively in that order.
These programs will be administered by an SPF Regional Staff Member, who will live in and work with the local community. Prospective staff members will first be introduced to field ongoing field work. Staff are chosen carefully for their ability to network, administer programs, and provide ongoing feedback for effectiveness. In the field, they will be in constant contact with SPF through meetings and social media.
V. Cross Program Messaging
Program themes and messaging focus our strategy on key issues, all woven together through a combination of channels – information programs, interviews, radio dramas, phone-in programs, community seminars, media training, and school programs.
In addition to direct community outreach, SPF print journalism workshops and radio training focus on advocacy for local communities. Journalists are given incentives and grants to report on issues affecting local communities to bring these to a wider audience.
Messages relate to both community welfare and to Serengeti threats:
Climate Change
Information on what is happening
Likely impacts on communities
How to adapt – share knowledge from other NGO's
Best practices for farming and livestock management.
Cattle and Rangeland Management
Impact of cattle and goats on land
Ways to reduce cattle herds
Tradition role of cattle and new ways of thinking
New breeds of cattle and how they help
Milk and meat production markets
Human-Wildlife Conflict
Ways of preventing wildlife damage
Information on programs like Lion Guardians and bee hives for elephants
Bush meat poaching
Tradition & Change
How and why traditional life is changing
How to keep key values and ideas and update them
Views of elders
A Heritage of Conservation
National heritage and identity in Tanzania
Ways to bring traditional values to a modern setting
Source of pride for the nation
Conservation, Tourism, and Development
Tourism as a source of jobs and national income
Benefits and problems of tourism
How can conservation and tourism benefit local people?
Economic Opportunity
Programs offered by other NGOs such as Community Conservation Banks
Advice on best practices in farming. Use of new technologies
Land use strategies
Community & Women's Welfare
Ways to empower and include women in education and the economy
Women's health and family issues
Serengeti Watch Directors
David Blanton
David has been traveling to East Africa for the past forty years. He lived in East Africa for seven years, five years in Kenya and two in Uganda, where he was a Peace Corps volunteer. He is the author of a social studies program sponsored by the Swiss government for Utalii College in Nairobi, Kenya.  In 1983, he founded Voyagers International, a tour company specializing in worldwide nature tours. Clients included leading museums, universities, and conservation organizations in the US. Voyagers merged with a larger company after twenty-five years. In 1995, he founded a nonprofit conservation organization for the Galapagos Islands (www.igtoa.org) bringing leading tour companies and NGOs together to promote responsible tourism and fund conservation work. He remained the director for ten years and produced and directed a series films on the Galapagos Islands. In 2010, he founded Serengeti Watch, a project of the Earth Island Institute, a US nonprofit conservation organization. He is also the founder of Friends of Serengeti (www.friendsofserengeti.org), a conservation organization for tour operators.
Boyd Norton
Boyd Norton is the author/photographer of 17 books, ranging in topics from African elephants to mountain gorillas, from Siberia's Lake Baikal to the Serengeti ecosystem. A recent book, Serengeti: The Eternal Beginning won praise from Jane Goodall, Richard Engel of NBC News, Ed Begley Jr. His newest book is Conservation Photography Handbook: How to Save the World One Photo at a Time, with a Foreword by Michael Brune, Executive Director of the Sierra Club. Boyd is the Recipient of the Sierra Club's 2015 Ansel Adams award for Conservation Photography. In 2010 Outdoor Photography Magazine in Great Britain listed him as "One of the 40 most influential nature photographers from around the globe." Boyd has been traveling to and documenting the Serengeti ecosystem for over 30 years. He has served on the Board of Trustees for the Dian Fossey Gorilla Fund, devoted to saving the last mountain gorillas. He wrote and photographed the book, The Mountain Gorilla (Voyageur Press, 1990) with a Foreword by Betty White.  He is a Founder and Fellow of the International League of Conservation Photographers, and a Founder and Fellow of the International League of Conservation Writers.