Threats Facing the Serengeti
Poaching is done by local people for subsistence and also by organized criminal gangs for wildlife trafficking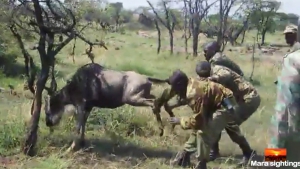 Poaching is widespread along the boundaries of the Serengeti, particularly on the western side. This is primarily bushmeat hunting by local people as a source of protein. It is extensive:
A recent study estimates an annual offtake of 97,000-140,000 wildebeest a year. Bushmeat poaching is growing, and combined with a doubling of population by mid-century, it will be an enormous and unsustainable loss of wildlife.
According to the Serengeti National Park Warden, William Mwakilema, poaching for bush meat "has advanced from a subsistence to a commercial level." There is a substantial threat from organized wildlife gangs that trade in rhino horn, elephant ivory, and even cheetahs and giraffe.
Tanzania is also losing huge areas of forest to both local people seeking energy and to organized logging gangs who ship away wood for construction and furniture. This is true of areas around the Serengeti, and also to the Mau Forest in Kenya, which is the catchment area for the Mara River.
Follow a manual added link
Study: Bushmeat hunting in Serengeti, Tanzania:; An important economic activity to local people
"Unsustainable use of natural resources poses threats to conservation and livelihoods. High-levels of bushmeat hunting threaten wildlife populations and extinction of some species. This paper gives an overview of bushmeat hunting in Serengeti, Tanzania."