Threats Facing the Serengeti
Photograph: Carey Marks / Plymouth University
Land degradation involves many factors: overgrazing, erosion, deforestation, soil depletion, and population growth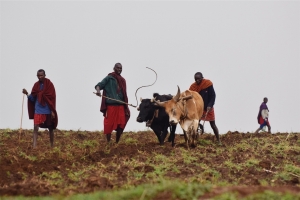 It's happening all over East Africa. The number of domestic livestock around the Serengeti has increased dramatically, often by wealthy, absent land owners. Pasture is being overgrazed and farmland spread thin, not allowed to lie fallow and replenish because of the constant need for more food.
See this report: Land degradation threatens human wellbeing, major report warns
Data from NASA satellites shows this pattern throughout Africa. This introduces the prospect of food scarcity or famine on a large scale as population grows. As more land is devoted to farming, livestock, and settlement, there is a corresponding fragmentation of the natural ecosystem, especially from fencing and roads.
Study: Cross-boundary human impacts compromise the Serengeti-Mara ecosystem
One important study in particular has shown how human activities outside the Serrengeti are affecting the Serengeti ecosystem itself. A team of scientists has revealed an important aspect of this, not just on the ecosystem's margins, where one would expect change, but at the very center of the ecosystem.
They found human activity has affected grass cover, soils, beneficial natural fires, and the overall risk from climate change. The impact on the Masai Mara Reserve in Kenya has been especially dramatic, greatly reducing the size of the migrating wildebeest herds into this area.
"Protected areas provide major benefits for humans in the form of ecosystem services, but landscape degradation by human activity at their edges may compromise their ecological functioning. Using multiple lines of evidence from 40 years of research in the Serengeti-Mara ecosystem, we find that such edge degradation has effectively "squeezed" wildlife into the core protected area and has altered the ecosystem's dynamics even within this 40,000-square-kilometer ecosystem. This spatial cascade reduced resilience in the core and was mediated by the movement of grazers, which reduced grass fuel and fires, weakened the capacity of soils to sequester nutrients and carbon, and decreased the responsiveness of primary production to rainfall. Similar effects in other protected ecosystems worldwide may require rethinking of natural resource management outside protected area."
Several publications have reported on this, including:
· Population explosion fueling rapid reduction of wildlife on African savannah, study shows
· Human Activity is Disrupting the Heart of Africa's Serengeti Ecosystem
Deforestation.
Tanzania and Kenya are also losing huge areas of forest to both local people seeking energy and to organized logging gangs who ship away wood for construction and furniture. This is true of areas around the Serengeti, and also to the Mau Forest in Kenya, which is the catchment area for the Mara River.